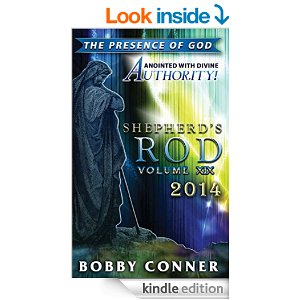 Bobby Conner 2014 Shepherd's Rod
Prophetic insights for 2014. A MUST READ for those interesting in accurate prophetic insights for the upcoming year! I personally have read it at the beginning of the year and at the end of the year for the last 10 years. You can see how it all unfolds as the Lord had revealed to His Prophet.

If you can go to a Bobby Conner event....GO. Check Pastor Bobby's schedule on His Events. He is one of our favorites

.
For 18 years Bobby Conner has been bringing the accurate Word of the Lord in the Prophetic message for the upcoming year. In this Shepherd's Rod Volume 19, the Spirit of God is releasing revelatory strategies to prepare us to face the future with boldness and confidence. This Year's Theme: "The Presence of the Lord"
Please click LINK HERE to purchase the Kindle edition. Thank you for using this link to Amazon. The purchase helps our ministry.
SEE MORE FROM OUR BOOKSTORE, CLICK HERE.
Product Details