Daughters of Revival - In His Presence
Date:

September 27th 2019 - September 29th 2019

Speakers:

Jeri Hill, Dr Sandy Kirk, Pastor Elizabeth Zeller, Kelsey Hill Morris, Stacey Payne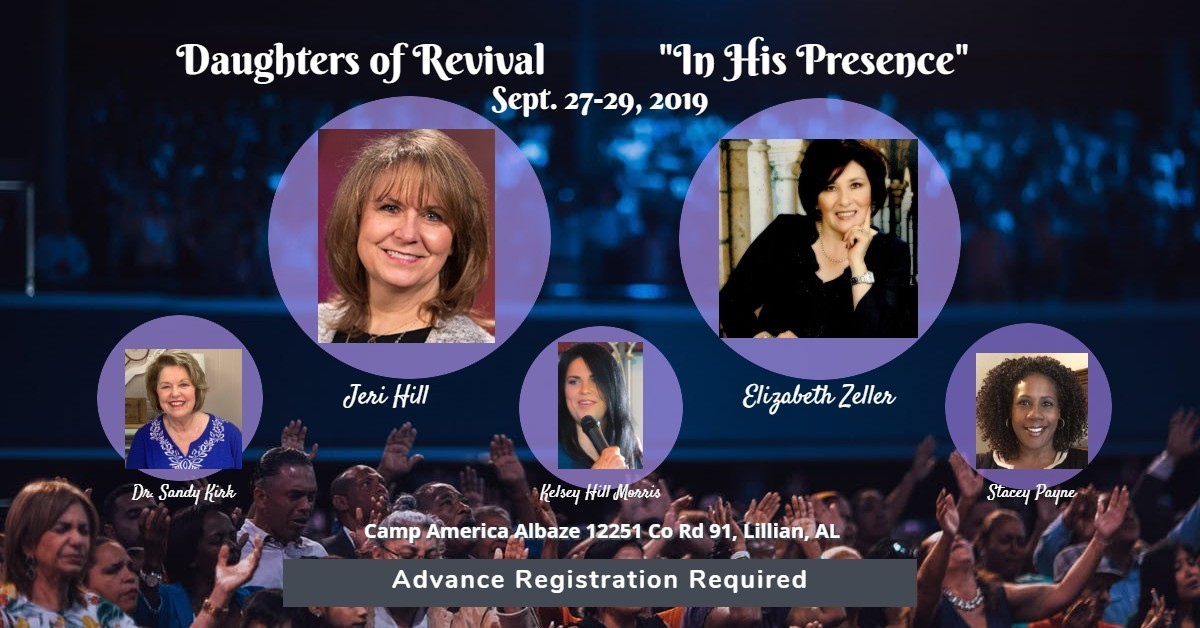 Jeri Hill, Pastor Elizabeth Zeller, Dr. Sandy Kirk, Kelsey Hill Morris and Stacey Payne - from the Brownsville Revival
Daughters of Revival is an annual women's retreat with the purpose of stirring back up the Fires of Revival. This year we are teaming up with Jeri Hill's BEAM Women's Ministry. With anointed worship and the power of God's presence, you will receive fresh impartations of His Fire!
Advance registration is required (information below) and there is limited seating, so register early.
Location - Camp America Ablaze, formerly the home of Steve Hill and his wife Jeri during the Brownsville Revival. This land has a great history! Located to the west of Pensacola Florida, Camp America Ablaze is now owned by Dr. Sandy Kirk, former teacher at the Brownsvile Revival School of Ministry. For more information about the Camp America Ablaze, watch the video here.
Schedule - Friday night 7pm, Saturday 3 sessions, Sunday closing session after church.
Conference / Retreat Registration $149 - Full conference including Lunch and Dinner Saturday and lunch Sunday after church. We will be attending Church of His Presence in Daphne, Alabama, home of Pastor John Kilpatrick. CLICK HERE TO REGISTER
Retreat Overnight $199, includes 2 nights lodging, full conference, and all meals during conference also including breakfast on Saturday and Sunday for overnight guests only. We will have followship and snacks after the evening sessions for overnight guests as well. Airport transporation is provided if needed. CLICK HERE TO REGISTER
Questions for more information contact the Administrator, Robin, at Beholdministries1@gmail.com
Watch Webstream